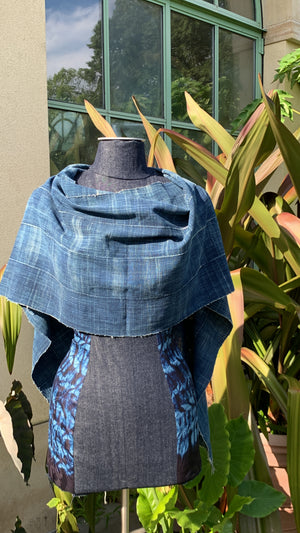 Mud Cloth Capelet Pure Indigo Blues
This African Mud Cloth is Cotton Indigo dyed,
A lovely cover up or layer for warmth,
A staple piece to compliment any wardrobe. 
With a pair of jeans, over a dress on a windy sunny day, to keep the sun off of your shoulders...  over a coat or jacket as a layer of warmth... it just works! Not just a trendy but a timelessly classic piece!
Indigo Dyed Fabric Care
Bleeding color is indicative of this natural dye. It will take several washes to minimize this. We recommend first drying your garment before washing to help set the color. 
Then wash separately in a garment bag, hang dry and iron to increase the life of the fabric and its color.